Constantly measuring and analyzing the positioning of your website is essential to determine if your SEO strategy is paying off or detect possible problems that are preventing you from achieving this goal.
There are many SEO tools that you can find, but the main problem for many people is their high cost.
Let's be clear, web positioning requires a significant investment before seeing its fruits, but not everyone can afford it.
That is why today I want to try to give you a hand, recommending a series of free tools with which you can sharpen your website by doing a free SEO analysis .
Free tools for an SEO analysis of your website
Using these tools that I am going to propose together, you can obtain a lot of information about the current state of your website and find many points of improvement to make Google fall in love.
#1. Woorank
Woorank is a classic of free SEO tools that you can find on the Internet to perform a free SEO analysis of your website .
You just have to enter the URL and the tool begins to do an analysis that touches many points and where it will make different optimization recommendations .
In order to get the most out of it, you will have to register for free, otherwise many of the options are "capable" and you will not get all the information.
With it you already have a lot of valuable information to improve.
In fact, this tool is one of my favorites when I don't have my own resources to work on a project, for example an SEO contest like cantineoqueteveo . In these cases you always have to use creativity to stand out and the use of tools is no exception.
Woorank is one of my favorite options.
#2. MetricSpot
Do you need a visual and quick report? MetricSpot is the tool you need.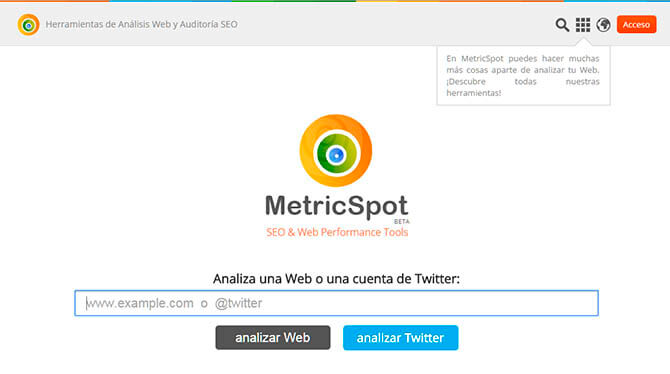 It is a very global view of the state of your website that you can save as a PDF, which is very convenient to have at hand and get to work.
It is a good analysis tool if you are looking for a roadmap to follow.
#3. StatsCrop
A tool that I don't usually see much recommended but that I personally like a lot is StatsCrop .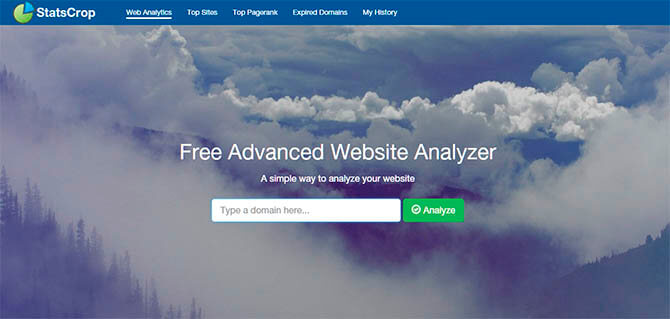 Its design is not as attractive as the ones mentioned above, but in the end what matters is the data and StatsCrop offers you a good amount of it:
traffic reports
Top keywords
domain information
Social networks
Security
Other options
A variety that in my opinion is very interesting, I recommend you give it a try 😉
#4. Web Stats Domain
Another free option is Web Stats Domain where you can also see a large amount of information at a quick glance, similar to MetricSpot but less visually attractive .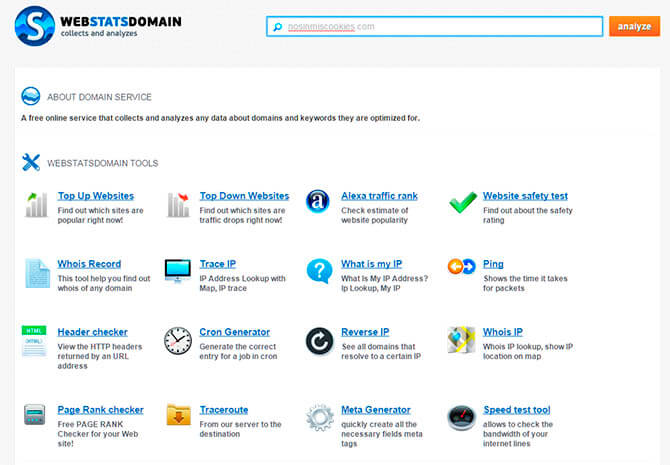 Why talk about it if we already have MetricSpot?
I really like your section of web pages similar to the URL you are analyzing .
An easy and fast way to find competitors and compare yourself with them.
#5. SEO Spyder Monkey
SEO Spyder Monkey is a tool that does not stand out for its visual appearance, or yes, but for worse.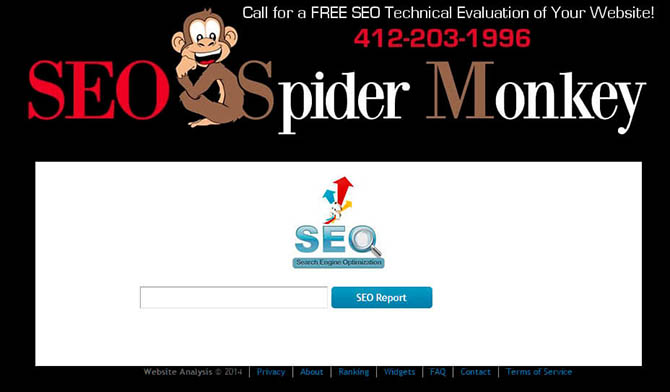 Its operation is simple, you enter the URL, click on "Analyze" and it offers you a screen with results where it covers different SEO points.
Nothing new right?
Well, what I like about this tool is that at each of those points you will see a "+" button that opens a dropdown with a recommendation to make .
Therefore, it not only offers you data, but also tells you what to do with it , something that I sometimes miss in some SEO analysis tools.
#6. Quick Sprout
To compensate for the visual damage caused by the previous tool, I show you Quick Sprout , a tool that takes great care of this aspect.

You will get an SEO report in the form of an infographic , with icons, screenshots and different colors, which makes it very pleasant to follow and understand.
In addition, it divides the SEO analysis into 3 blocks:
web analytics
Social media analysis
Competitor analysis
At the end you will find another 3 blocks that order the changes you should make from greater to lesser importance.
#7. PageSpeed Insights
Finally, you could not miss the Google PageSpeed ​​Insights tool to analyze the loading speed of your website on both mobile devices and desktop.

Although the previous tools already give you a certain score in this aspect, if you really want to improve the loading speed of your website, this is essential.
Search Console: The tool that should never be missing
Although with the list of these 7 free SEO tools you have plenty, they are designed for a specific moment of analysis.
However, if you really want to have constant control over your web positioning and how Google is interpreting all the content on your site, you should always connect your website with Search Console .
We can say that Search Console is the direct communication of your website with Google and this is very important.
You will be able to see how your pages are being indexed, if the robots are encountering 404 errors, how is the mobile usability of your website, internal links and many improvement tips.
The following video perfectly explains everything that Search Console  (former Webmaster Tools) can do for you
Come on, it's an essential that can never be missing and of course, it's also free.
These tools
Take a leap in quality with Serpstat: Free account and plans for everyone
Many ask me, after analyzing the SEO of their website, that they have seen that they need to improve many aspects and that they are thinking of hiring a paid SEO tool.
The problem is that many of them have costs close to €100 per month and on more than one occasion you need more than one.
But I want to recommend a perfect solution for you, both for your website and for your pocket.
This is Serpstat , a tool that wins for its large number of possibilities it offers. You can create a very complete free account but also very interesting plans at prices that you have never seen before with everything that is included.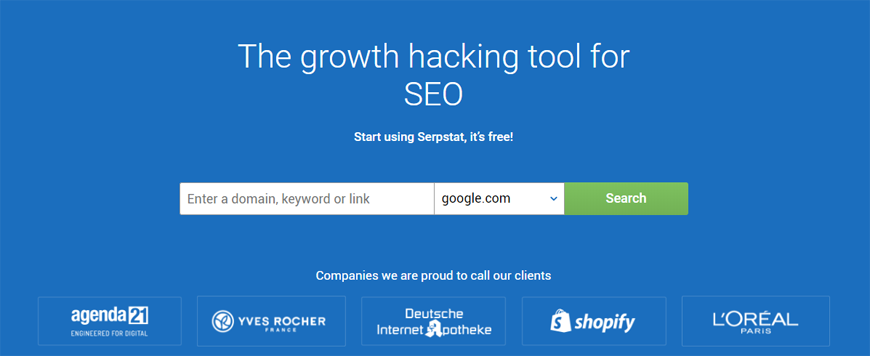 The all-in-one platform with 7 tools:
website analysis
keyword analysis
backlink analysis
position tracking
keyword grouping
text analytics
website audit
When doing an SEO audit with Serpstat , the tool draws your attention to the errors on the web page that matter the most and the ones that you need to fix right away in order to be liked by Google.
Serpstat divides bugs into 3 groups: high, medium, and low priority. Along with the errors you can see tips to fix them.
You also have information on how to improve the loading speed of a web page that you are analyzing, taking into account the loading speed on mobile devices.
One thing that I find really cool about Serpstat is the SDO (Serpstat Domain Optimization) metric – it's an internal note from Serpstat, that lets say shows you how optimized your domain is . It is the correlation of the errors that a website has with the errors that it may have in general.
I believe that there is no tool on the SEO market, with so much functionality offered and at the same time for such a low price. Because to perform a complete audit you have to pay, and Serpstat fees are the same as if they offer you to use it for free.
With these free tools can I improve my web positioning?
You have to be realistic, you can't ask for pears from the elm tree.
They are free tools that will be limited in certain aspects and that at different points will not allow you to go deeper.
At the same time, the investment in time of having to go through different tools must be valued instead of having everything more centralized in a couple of them.
However, thanks to them you can do a free SEO analysis to get a global idea of ​​the state of your website and assess whether you need to invest properly in the web positioning of your site.